Actually, Ivan could probably tell you if this is a problem. It will be Interesting to see what his flash does for this issue, or is able to tell us if it really is an issue.
Assuming the throttle bodies are are different, for the 17-19 bikes, I would have ordered these and found out for myself. If the shop finds the tire and even had a thinks it could be the issue, this could get very expensive as a self caused issue doesnt fit well with warranty .
These might cost 250, all in, to shipped to the usa. If it fixes the problem, awesome, if not then you have 4 nice back up injeectors. Easy to change if your arm and hand survives removing the airbox lid. They made sure that sealed, didnt they? Is it 234 screws, or 235 holding it on?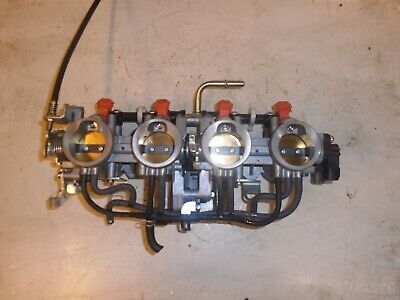 PART TAKEN FROM A 2017 BIKE 2019. IN USEABLE CONDITION. TAKEN FROM A 2017 BIKE. KAWASAKI Z 1000 SX. THROTTLE BODIES. Need more parts for this motorcycle?. PRO MOTORCYCLE SALVAGE. SCOTTISH & ENGLISH OFFSHORE ISLANDS.